Upgrade a School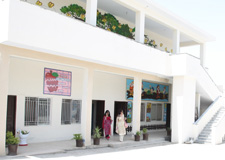 We offer three donation packages for the Upgradation project, which cater to the needs of different sizes of schools with different improvements required. Some schools require infrastructural changes while others need books, supplies and computer labs, etc.
The three packages offered by us currently are:
Basic Upgradation

This is directed towards those schools that have fenced premises and require some or basic improvements like paint, repair, provision of better furniture, provision of toilet facilities etc. We only revamp the infrastructural facilities in this package, and provide necessary books and stationery to the students. The approximate cost to the donor for choosing this package is 1,950,000 PKR.

Intermediate Upgradation

This is directed towards those schools that do not have a fencing wall or marked premises and very poor infrastructural facilities. These may also include schools that need some sort of small construction ventures like construction of sports facilities etc. All facilities of the basic upgradation will be provided in addition to the ones mentioned. The cost to the donor under this package is 2,450,000 PKR.

Advanced Upgradation

Under advanced Upgradation, schools with extremely pathetic conditions are targeted and provided all the facilities that come under the intermediate Upgradataion Plan. In addition, we throw in a Computer lab, and a free teachers training workshop initially so that the school kick-starts with a whole new look and vision. The cost for this Upgradation plan to the donor is 3,450,000 PKR.