4CCI Computer Literacy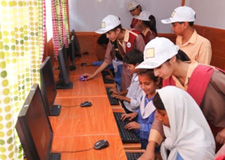 4CCI has taken the bold initiative by introducing Basic Computer Training and conducting spoken English classes for the young girls of under privileged community. This program is conducted round the year on 8 week course module and conducted by Female Computer Professional. To date about 1000 girls have successfully completed the training and are now on the job earning for them. This program has created tremendous enthusiasm among the young girls from underprivileged community who could not pursue college education due to economic constraints. This training has given them a new ray of hope and has opened up new doors of job opportunities.
20-25 girls are enrolled in one course lasting 8 weeks ( 3 hours daily)
Course components MS DOS, MS Windows, MS Office (MS Word , Excel, PowerPoint ) . Usage of Internet and Email.
We have an unending list of aspirants seeking admission in the Computer Training but due to lack of resources we have to limit our intake to 25 in one course.
This training is imparted to deserving students with zero cost to them.