Sister School Initiative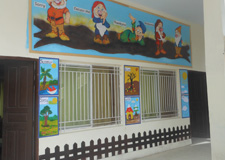 4CCI has adopted 6 sister schools in the rural suburbs of Rawalpindi with student population of 2000 girls. All schools are Govt. primary schools in dilapidated conditions. Since year 2000, 4CCI is providing these children education incentives i.e. school bags, text books, notebooks, stationary items, Art materials, sports goods, prizes for outstanding pupil and other essentials like water coolers, durees, glasses etc. By providing education incentives we have attracted the girls and their parents towards our adopted schools. The enrolment has increased by 100% as per attendance in schools. It showed improvement in the performance student's performance. It led to increased awareness in the community about the educational needs and importance of girl's education.
Forms of Incentives:
Provision of free books, notebooks, school bags and stationary.
Provision of free schooling.
Provision of scholarships.
Provision of food items .i.e. milk, vegetable, oil, sugar etc.
Early Child hood Education:
4CCI in collaboration with federal ministry for education and UNICEF has trained 52 teachers from Islamabad capital territory schools located in the rural areas in Montessori Method of education by conducting workshops.
After the completion of training, 4CCI members have adopted 5 schools to enhance their quality standards and learning environment.
Our campaign slogans are:
Let us give every child the best start in life.
Those who educate children well are more to be honored than even their parents , for these only give them life, those the art of living.