4CCI Vocational Training
Pak-China Initiative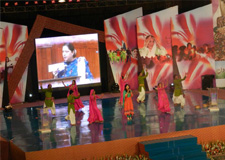 Cultural fusion is the essence of humanity. Therein lies a most fundamental principle of peace: respect for diversity. Promoting cultural diversity is one area that 4CCI likes to work within. We like to work within the parameters of enhanced cultural fusion, and to promote that we celebrated the Pak-China Friendship Day.

The celebrations proceeded with an enthusiastic speech delivered by Mr. Mushahid Hussein to young audiences by complimenting the untiring efforts done by patron in chief of 4CCI, Mr. Walid Mushtaq and the Confucius Institute. The performers gave mind blowing performances with their exquisite , vibrantly colorful dresses embellished with jewellery to provide an enchanting spectrum of cultures of Pakistan and China. H. E. Yang Linhai deeply appreciated the hard work put in by students in presenting Chinese culture and articulated that together hand in hand with china, the two nations can achieve greatness.
Harnessing Global Diversity
As part of our aim to enhance global diversity, we organized a performance through arts event themed "Harnessing Global Diversity"- an exhilarating and spellbinding performance through arts and display of mesmerizing diverse cultures across the globes by students of the Roots school system at the Pak-China Friendship Center. The occasion was elevated with the distinguished presence of who's who of the city including Faisal Sakhi Butt- Chairman PM task Force Isb, Chairman CDA, Mr. Farkhand Iqbal, foreign dignitaries and guest of honor Senator Syed Zafar Ali Shah.

This event was held to mark the friendship year celebrations between Pakistan and China. Mr. Faisal Sakhi Butt profoundly appreciated the untiring efforts of students in presenting such a display of remarkably enthralling performances that the event a huge success.